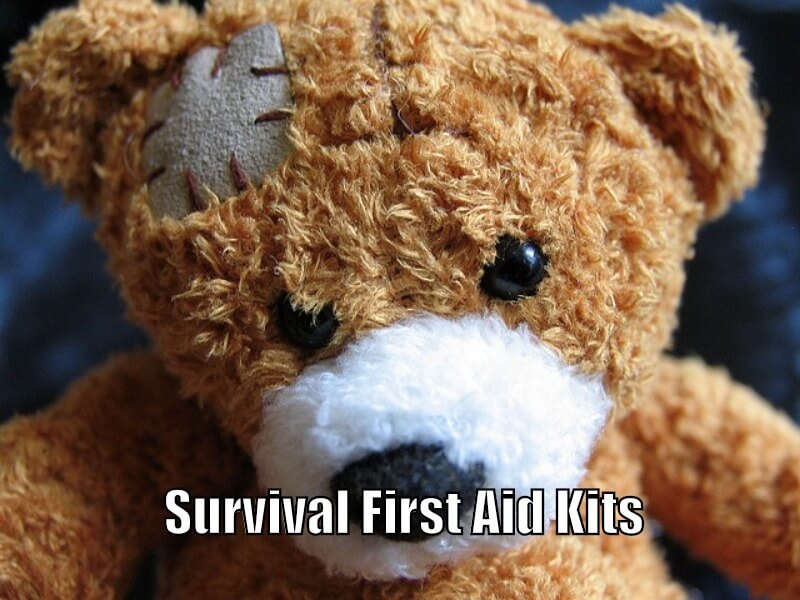 When you're rushing out of the house in an emergency the last thing you want to forget is a first aid kit, especially if you have kids and elderly family members to care for. But trying to pack the right items when the car is already running is worse.
Just like having a good multipurpose knife and an emergency backpack filled with supplies and ready to go, having bandages, slings, and ointments packed is also important.
So before we get to the top 10 selling first aid kits, let's quickly cover what you'll need to look for before you buy.
What Goes Into a Survival First Aid Kit?
You're going to want to make sure you have what you need so if you can't find a kit made specifically for survivalists, then put together the supplies you need yourself. Get a sturdy bag for it – you can use a hard shell case or you can use a backpack for your first aid supplies. If you use a backpack, mark it as your first aid kit.
You'll want a first aid manual. No matter how much knowledge you have with emergencies, if you're the one that needs aid, this can help someone else know how to treat you.
Next, besides bandages that range in shape and size, you're going to want gauze pads. Make sure these are in a variety of sizes and make sure they're the absorbent kind. You're going to want butterfly strips, but in a pinch, you can make your own with regular medical tape – so make sure you have medical tape in your kit. Have burn dressings in your kit, too.
You need Ace bandages because these not only help with a sprain, but they can also be used to fasten a splint or a sling if needed. Have a supply of gloves on hand to use while you're performing a treatment.
You'll also need a way to clean the wound. You can use a piece of gauze if you have to – but most people pack some cotton swabs. You'll need scissors for cutting and you'll need tools to get out splinters or other foreign objects.
Tweezers are best for this but in some events, you'll need a needle. You'll want a flashlight so that you can see what you're doing. You'll want a thermometer as well as the medication to treat in the event someone does have a fever. You'll want one of those ice packs for help with swelling injuries.
Make sure your kit has plenty of antibiotic ointments and even allergic reaction tablets since you'll be living in areas where you and your family may not have been exposed to the allergens. Pack the liquid kind if you have children who can't swallow pills yet.
Having the means to suture up deep wounds in order to save a life is a necessity. For that, you'll need a suture kit. Superglue can also be used to close a wound. Some people also choose to have a handheld blood pressure machine. You can find ones that can also monitor a victim's heart rate.
If you'll be out in the woods or if you've set up a camp somewhere away from your home, you might encounter snakes. So take a snakebite kit. It's a good idea to investigate the area you'll be staying in to see what dangers you might encounter so that your kit can be built specifically for those issues.
Bestselling Survival First Aid Kits
Sale
Bestseller No. 1
EVERLIT 250 Pieces Survival First Aid Kit IFAK Molle System Compatible Outdoor Gear Emergency Kits Trauma Bag for Camping Boat Hunting Hiking Home Car Earthquake and Adventures (CP Camo)
【Exclusive 250 PCS First Aid Survival Kit Contained a Military Molle EMT Pouch】Uniquely customized by U.S military veterans, field tested by EX- Army Sergent, designed to get you well-prepared in an emergency situation. The kit combines 241 PCS First Aid Supply with 9 powerful Survival Gear into a Must-Have EDC emergency kit
【FDA Approved Comprehensive First Aid Treatment Exceeds OSHA Guidelines For Single Family】The kit contains more than enough supply to treat a single family or a group of friends under emergency circumstances. Perfect for taking care of any medical or emergency needs during outdoor wilderness adventures such as camping, boy scouts, hiking, hunting and mountain biking, etc.
【Molle Compatible, Durable, Portable, and Water-Resistant】The military grade EMT bag was made from 600D water-resistant nylon, it offers three large compartments and plenty of rooms to add your own gear. The overall dimension of the kit is 8'' x 6.5'' x 5'' and weight only 1.9 lbs. The molle compatible straps on the back allow the user to attach it to other bags or your belt, which made it a perfect companion for any outdoor activities.
【Top Quality Survival Gears Designed to Last】Includes the most popular survival necessities: 3-mode tactical flashlight, multi-function paracord bracelet (compass, whistle), flint stone, knife, saber card, two glow sticks and rain poncho
【Veteran Owned Company 5 - Star Customer Support】: Everlit is committed to providing the most comprehensive customer service. We proudly offer the exclusive 60-days hassle-free return over all products. We stand behind the quality of our inventory, all original Everlit products are covered under 1-year satisfaction warranty.
Sale
Bestseller No. 2
Aootek Upgraded first aid survival Kit.Emergency Kit earthquake survival kit Trauma Bag for Car Home Work Office Boat Camping Hiking Travel or Adventures
Powerful Combo set: Spring-action Needle nose Pliers, Spring-action Regular Pliers, Spring-action Wire Cutters ,Wire Stripper, Saw Blade, Can Opener, Bottle Opener, Wood/Metal File, Phillips Screwdriver, Medium Slotted Screwdriver
Survival and Emergency prep are redness be prepared during unexpected major emergencies, natural weather disasters, and survival situations that require medical-grade supplies for immediate treatment, relief
Unique And Upgraded items - based on customers' feedback. Bigger, stronger metal scissors and knife. inside is everything you need to help you survive: fire starter, knife, compass, whistle, saw, multipurpose flash light pliers
Wire saws: with super sharp blades and smooth features do not hurt the hand, is the fastest existing pocket wire saw. Rare earth alloy Ignition rods: directing fire can not ignite, scooped into the water can be wiped away immediately make fire.
Small size and easy to carry, this extremely useful kit can be placed in a backpack, car, drawers, etc. It's necessary when camping, hiking, adventures, survival and in emergency situations
Bestseller No. 3
Surviveware Small First Aid Kit for Hiking, Backpacking, Camping, Travel, Car & Cycling. Be Prepared For Survival, Outdoor Adventures or at Home & Work
DURABLE, STRONG AND BUILT TO LAST. Made from 600D Polyester this first aid kit comes in the strongest bag in its price class. Our large stainless steel scissors can cut through clothing or seat belts. Forget about flimsy plastic containers that break while under pressure.
COMPACT, LIGHT AND PORTABLE. This first-aid kit comes with 100 essential life-saving items. It weighs only 1 pound and measures 5.5 x 7.5 x 3.5 inches to fit into your car's glove box. The MOLLE compatible straps on the back allow the user to wear it on other bags or your belt. Carry it in your backpack, truck, RV, motorcycle or in backcountry.
WATERPROOF INNER CONTENTS. The bag is water-resistant. All inner items are protected from water in durable zip-top laminate baggies. This means your supplies are safe and secure around any marine or boat environment.
ORGANIZATION IS THE KEY TO SURVIVE. Each inner sleeve is labeled according to its function. During stressful situations, all items can found and used. Afterwards all supplies can be replaced in an orderly fashion. You also have a separate zip pouch for your own prescription medication.
FDA APPROVED MEDICAL KIT. This kit is FDA approved and has passed the rigorous testing that ensure all items in the kit are safe for you and your family. Make sure buy from a reputable company with a proven track record of excellence.
Sale
Bestseller No. 4
Swiss Safe 2-in-1 First Aid Kit (120 Piece) + Bonus 32-Piece Mini First Aid Kit: Compact, Lightweight for Emergencies at Home, Outdoors, Car, Camping, Workplace, Hiking & Survival
NEW & UPGRADED FOR 2019: 2-in-1 Premium First Aid Emergency Kit with 120 medical grade items.
FDA APPROVED: Manufactured from highest quality FDA approved facility exceeding safety standards.
INCLUDES MINI-FIRST AID KIT: Amazingly small, lightweight Mini Kit with additional 32 medical items.
MULTIPURPOSE: Perfect for any occasion or events - family, home, workplace, emergencies, outdoors.
100% MONEY BACK GUARANTEE: Swiss Safe Guarantees customer satisfaction or receive a 100% refund.
Sale
Bestseller No. 5
Monoki First Aid Kit Survival Kit, 241Pcs Upgraded Outdoor Emergency Survival Kit Gear - Medical Supplies Trauma Bag Safety First Aid Kit for Home Office Car Boat Camping Hiking Hunting Adventures
【A Must Have First Aid Kit For Your Active Life!】 Monoki 241 Pcs Upgraded First Aid Kit with Multi-Purpose Emergency Survival Tools & All-Purpose Hihgest Standards FDA Medical Trauma Supplies. Complete First Aid Kit with Bright Red Bag and Striking Red Cross Symbol, You can Quicky Find Everything You Need in Case of Any Emergency. A Must Have for Us! Also Great for A Gift!
【Various Practical Survival Tools】 Powerful Combo Set, Includes 16 Different Amazing Survival Tools - Multi-function Pliers, Tactical Folding Knife, Stainless Steel Saber Card, Emergency Blanket, Army Green Whistle, Compass Keychain, Fire Starter, Wire Saw, Tactical Flashlight, Fishing Lines, Fishing Weights, Fishing Hooks, Swivels, Floats, Aluminum Foil, Bait, Fishing Set Can Solve The Problem of Looking For Food Outdoors, Which can Meet Your Different Needs!
【Multi-Purpose Emergency Medical Grade Supplies】 The First Response Medical Supplies Premium Compact First Aid Kit has Everything You Need for a Medical Emergency in a Compact Portable Size. With a Full Range of High Quality Medical Emergency First Aid Choices, You will have Everything You Need for the Most Common Mishaps and First Aid Demand, You Can Deal With Wounds Soon to Reduce and Prevent Wound Infections.
【Compact Lightweight & Durable】 Fully Organized with 241 Pieces First Aid Kit, Small and Lightweight, Easy to Carry, Weighs just about 1.54 lb, Portable and Travel-friendly Design. High-quality EVA & Nylon Material with Full Open Zipper, Strong Durable Waterproof and Shock Resistant. There is still Additional Space to Add More Supplies When Necessary. Fits Perfectly in your Car, Boat, Backpack, Pockets or Glove Box. You can Take it Anywhere You Go!
【Perfect for Any Emergency Situation】 Ideal for Home, Family, Office, School, Kitchen, Workplace; Car, Boat, Bike, Motorcycle; Travel, Camping, Hiking, Fishing, Hunting, Boating, Cycling, Backpacking, Outdoor Sports, Wilderness Adventures, Also Suit for Natural Disasters Survival Emergency, like Earthquakes, Hurricanes, Tornados, Floods and Fires.
Sale
Bestseller No. 6
Surviveware Large First Aid Kit for Extended Camping Trips, Cars, Boats, Trucks, Office, Home and Family Use with Bonus Mini Kit
DURABLE, STRONG AND DESIGNED TO LAST. Made from 600D Polyester this first aid kit comes in the strongest bag on the market. We tested this product for more than a year to make sure it withstands even the toughest conditions. For the price you're paying, you deserve the best. Forget about flimsy plastic containers that break when under pressure, invest in a soft shell first aid kit that is rugged, robust and portable.
FDA APPROVED TRAVEL MED KIT. This kit comes with 200 essential basic life-saving items with additional space to add your own items. Anyone who is serious about preparedness ends up customizing their kit and adding their own supplies anyway. There is enough space in the kit to even add bulky items like an 18" SAM splint.
WATER RESISTANT. The bag is water resistant and all inner items are protected from water in durable laminate pouches. This means your kit becomes a waterproof haven. Add it to your boat without worrying about water damage. In addition, the kit floats so if you accidentally drop it during your voyage this your supplies stay safe.
ORGANIZED COMPARTMENTS. You need to know your first aid kit like the back of your hand. During stressful situations people frequently panic and make mistakes. Each inner sleeve is labeled according to its function. Now, all items can easily be retrieved and afterwards replaced with new supplies in an orderly fashion.
PORTABLE MOLLE SYSTEM. The kit comes with a removable system so you can attach it to your car's headrest or the roll bar in your Jeep. If you don't need this, remove the straps and adhere in your car's trunk. The Velcro is super strong which means you can also carry it while hiking, this first aid kit will always stay in place when you travel.
Bestseller No. 7
Everlit Emergency Survival Trauma Kit with Tourniquet 36" Splint, Military Combat Tactical IFAK for First Aid Response, Critical Wounds, Gun Shots, Blow Out, Severe Bleeding Control and More (Black)
【Everlit Emergency Trauma Kit】: Uniquely customized by U.S military VETERANS to get you well-prepared in advance to emergencies during the outdoor adventure, hunting, camping, travel, disaster, and accident. The Everlit Emergency Trauma Kit is ideal for field tactical medics, police, military, combat life savers, first responders, outdoor enthusiasts and more!
【Massive Hemorrhage and Circulatory Care】: This kit contains the most use friendly, compact and popular survival and first aid supplies for massive bleeding control on the market, which includes: military combat tourniquet, tactical Israeli pressure dressing, and compressed gauze.
【Respiratory and Hypothermia Treatment】: Sealing the open chest wound seems like a no brainer for respiratory care. As a seal, a durable plastic packaging of any product in the kit can be used to seal the wound with the medical tape. A shock often occurs after massive loss of blood, which comes hand in hand with a drop of body temperature. The emergency thermal blanket is designed to keep body temperature warm as a treatment for hypothermia.
【Bone Fracture Treatment】: 36 Inch Splint Roll to keep your bones in position, triangle bandage and elastic bandage to wrap around and secure the limb from moving around. Together the Splint Roll, Triangle Bandage, and Elastic Bandage are purposely selected in this kit for any bone fracture of your limbs.
【Veteran Owned Company 5 - Star Customer Support】: Everlit is committed to providing the most comprehensive customer service. We proudly offer the exclusive 60-days hassle-free return over all products. We stand behind the quality of our inventory, all original Everlit products are covered under 1-year satisfaction warranty.
Bestseller No. 8
First Aid Kit Hard Red Case 326 Pieces Exceeds OSHA and ANSI Guidelines 100 People - Office, Home, Car, School, Emergency, Survival, Camping, Hunting, and Sports
Made by the number one leading manufacturer of First Aid Kits in the USA. 326 pieces of comprehensive first aid treatment products. FDA APPROVED: Manufactured from the highest of quality FDA approved facility exceeding safety standards for emergency first aid, for adults and kids.
Meets or exceeds OSHA and ANSI 2009 guidelines for 100 people. Ideal for most businesses and perfect for family use at home.
Fully organized interior compartments provides quick access. Rugged, sturdy, high density plastic case is impact resistant.
Two separate layers of first aid for large and small first aid products and tilting shelves designed for easy access and refill.
Wall mounts or folds compactly for storage. Case dimensions: 13" x 12" x 4". Easy slide latches securely locks into place. Includes a refill order form.
Bestseller No. 9
Wrap Up for Beginners…
If you're planning to pick up a first aid kit at the store, you might be in for a shock. Most of those pre-planned kits don't contain the items that you need for long-term or even short-term survival.
Most kits are put together based on normal living conditions. Since surviving a natural disaster or other crisis situation doesn't qualify as normal, you're going to want to look specifically for a survival first aid kit. These aren't the same as a regular first aid kit meant for a soccer mom whose kid needs a BandAid for a scraped knee.
* These deals and reviews were last updated on 2019-02-19 at 05:45.