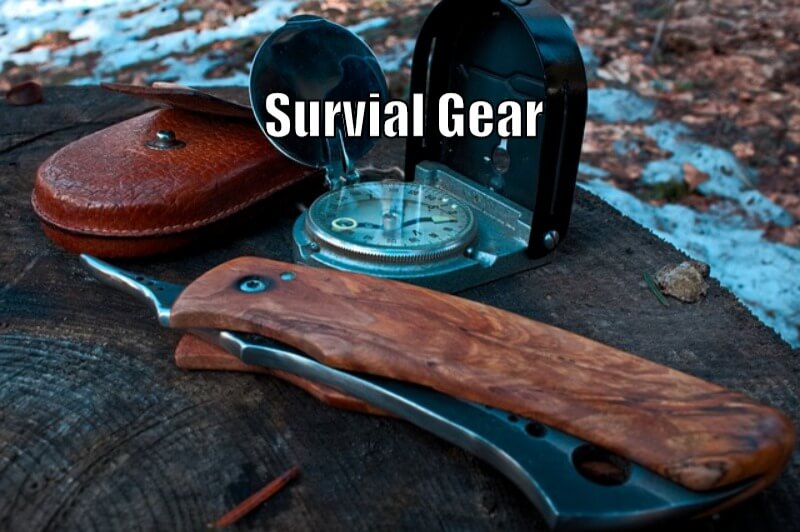 At the top of every survival plan is a backpack with survival supplies (A.K.A. premade bug out bag). And you don't have to pay $200 – $300 for a quality pack.
Below you'll find a list of the top 10 best selling tactical backpacks on Amazon and the top 3 are all well under $50 – but first, let's learn a little about what to put in your emergency kit…
What Goes Into a Basic Survival Kit?
When building a premade bug out bag, a basic survival kit should always have food and water supplies.
While you can survive a few days without food, you can't survive long without water.
Food supplies for a basic kit can be MREs (meals ready-to-eat) or something as simple as emergency ration bars.
These are bars that are packed with all of the nutrition you need to survive for several days and can easily be purchased in bulk online.
A basic kit should also have a water supply or water purification tablets so that you can make the water safe to drink. Some people choose to pack water packets that can be kept stored for up to five years.
Next, you'll need to make sure that you have some type of signal. Some people use a signal mirror while others rely on a loud whistle to make it easier for them to be found. A whistle can also help to frighten away animals.
A multi-tool knife is a must-have and can take the place of several other gadgets. You'll need waterproof matches and a fire starter. What many survivalists use to start a fire with are cotton balls because they're lightweight and easily burn.
To stay warm and dry, you'll want your kit to have a poncho (use a large lawn and leaf garbage bag if you don't have a poncho) and a survival blanket. If you have small children, make sure you have enough survival blankets for them. You also want to have a tube tent.
Pack a flashlight with an LED light, a sewing kit and a compass in your kit, too. Having a paracord or other emergency cord can come in handy for securing shelter or other uses. You can buy these and wear them as a wristband if you want to.
Included in all survival kits should be a portion reserved for the first aid materials. The first aid materials should consist of bandages, tweezers, alcohol wipes, antibiotic ointment, allergy medication and pain reliever at the very least.
If you're wondering how you'll fit all this gear in your pack – don't worry, it will fit. And if it doesn't then only pack what you think is important…
10 Best Selling Tactical Backpacks (Perfect for building your own bugout bag)
Bestseller No. 1
Sale
Bestseller No. 2
Sale
Bestseller No. 3
REEBOW GEAR Tactical Sling Bag Pack Military Rover Shoulder Sling Backpack Molle Assault Range Bag Everyday Carry Diaper Bag Day Pack Small
Great small tactical rover sling pack with molle as day pack or EDC bag, it's made of durable 600D polyster.
Sling pack size: 12 * 9.5 * 6 inch (H*W*D), enough for carrying 9.7 iPad, small notepad, keys, wallet, cell phone, flashlight, gloves, bottle of water, chargers etc. on a daily basis
Tactical sling bag with large Velcro pad in the concealed main compartment and the back compartment. Awesome as a pistol range bag for 1-2 handguns and lots of ammo or as tactical assault pack.
Sling bag backpack has adjustable and comfortable shoulder strap, and also has two smaller straps to help reduce the sway of the bag while moving as small military rover shoulder sling backpack.
Sling pack is a great small everyday carry tactical diaper bag or travel sling bag to take on small trips or go hammocking for a little bit where you may require some snacks or other relatively small items.
Sale
Bestseller No. 4
Sale
Bestseller No. 5
CVLIFE Outdoor 60L Built-up Military Tactical Backpack Army Rucksacks 3 Day Assault Pack Combat Molle Backpack Pouch for Hunting Trekking Camping Surplus Bug Out Bag
12 months warranty be offered. Tactical backpack is made of water-resistant 600x600 oxford fabric.
Spacious military backpack has one main large compartment, one front DETACHABLE bag which can be used as a tactical fanny pack separately, two side DETACHABLE tactical backpack accessories pouches which can be used as first aid bags. This multipurpose backpack can be flexibly regarded as a 50L and 60L backpack.
MOLLE system of this military molle backpack rucksack allows you to easily attach outdoor gear, more pouches and sleeping pad.
Adjustable dual density ventilated mesh shoulder straps, cinching waist strap, dual compression straps, heavy duty zippers and rain diverting flaps keep your rucksack pack secure and comfortable.
This multipurpose pack can be used as a 72-hour emergency kit, bug out bag, range bag, hunting backpack, army camouflage backpack, 3 day assault pack, survival backpack, hiking trekking camping rucksack, and EDC outdoor backpack.
Bestseller No. 6
5.11 RUSH24 Military Tactical Backpack, Molle Rucksack Bug Out Bag, Medium, Style 58601
Quite simply the best tactical military backpack on the market. This Rucksack bug out bag features a roomy main storage area, dual zipping side pockets and a stuff-it pocket with integrated draw cord and glove friendly pull tabs.
Rush24 Tactical Molle bag has a reinforced grab-and-go handle, hydration pocket, zippered fleece-lined eyewear pocket and wrap-around MOLLE/SlickStick web platform.
Military Backpack has 2275 cubic inch / 37 liter total capacity with Twin drainage grommets, and self-repairing YKK zippers. Perfect to use as a patrol backpack or trekking pack.
Also has three mesh admin compartments, zippered side water bottle pocket and a hook and loop area for nametape and flag patches. Water-repellant coating and has two external compression straps and a contoured yoke shoulder strap system
The Rush24 tactical military backpack can be used as a multipurpose pack, bug out bag, range bag, hunting backpack, survival back pack, army backpack, sling bag, hiking rucksack, or every day outdoor backpack.
Bestseller No. 7
5.11 RUSH72 Tactical Backpack for Military, Bug Out Bag, Molle Pack, Large, Style 58602
The RUSH72 military backpack features bug out bag design, built from high strength, water-repellant rucksack made with 1000D nylon; 3342 cubic inch / 55 liter total capacity
This Molle backpack is ready for patrol. Dual-zippered front and main compartments with glove friendly molded grip pulls. admin organization pocket to store maps, pens and documents.
This heavy duty large military backpack features a front pocket - 15.5 x 11.5 x 2 inch, main compartment - 23 H x 13.5 L x 8.5 inches, hydration pocket -21 x 13.5 inches, left and right side pockets - 16.5 x 6 x 1.75 inch
Adjustable dual density closed-cell foam shoulder straps; cinching waist strap and dual compression straps keeping your rucksack pack secure and comfortable.
The 5.11 Rush72 backpack can be used as a multipurpose pack, bug out bag, range bag, hunting backpack, army backpack, tactical sling bag, survival backpack, hiking rucksack, or everyday outdoor backpack.
Sale
Bestseller No. 8
MEWAY 42L Military Tactical Backpack Large Assault Pack 3 Day Army Rucksacks Molle Bug Out Bag Outdoors Hiking Daypack Hunting Backpacks
Military Tactical backpack size approx.:13"*20"*11" / 33*50.5*28CM (W*H*D),Capacity: 42L; Military backpack is made of high density fabric--durable and water-resistant.
The molle tactical backpack has molle system, Molle webbing throughout for attaching additional tactical pouches or gear as 3 day assault pack bug out bag backpack combat molle backpack.
Assault pack backpack with double-stitched, Heavy duty zippers and utility-style cord pulls, Side and front load compression system, Ventilated mesh padded back area & shoulder strap,breathable and comfortable.
This tactical assault pack backpack can be used as 3 day assault pack, bug out bag backpack, range bag, hunting backpack, survival backpack, army backpack, trekking backpack or day pack for daily use.
Service Commitments: We offer 360 Days Money Back Warranty. If you unsatisfied with the quality of our product, you can contact us with your complaints and 100% get your money back.
Sale
Bestseller No. 10
NOOLA 40L Military Tactical Army Backpack 3 Day Pack Molle Bug Out Bag Backpack Rucksacks for Outdoor Hiking Camping Trekking Hunting with Flag Patch
CAPACITY & MATERIAL: Tactical pack backpack is made of high density 600D fabric-durable with water-resistant coating inside. Size approx.: 20*11.8*12.6 inch/ 50*30*32CM (H*W*D), 40L
ACCESSORY DESIGNS: This army military tactical backpack for men comes with REMOVABLE tactical military flag patches, which are also super suitable for your caps, uniforms or other bags.
QUALITY & COMFORT: Double-stitched tactical rucksack military backpack has four compartments, heavy duty zippers, breathable padding back area, ventilated mesh padding, adjustable shoulder strap and two zipper handles.
OUTDOOR CONVENIENCE: Outdoor backpack for men has hydration compatible works great for hydration bladder(backpack comes with no hydration bladder)as hydration back pack, smart choice as outdoor camping hiking backpack, shooting hunting backpack and trekking backpack.
VERSATILITY USE: Molle tactical backpack has molle webbing throughout for attaching additional tactical pouches or outdoor gear, roomy as military backpack for men travel, bug out bag, 3 days pack, combat backpack, camo backpack, survival backpack, ocp backpack military, military army rucksack or day pack for daily use.
Final Survival Tip for Beginners…
To survive, humans need food and water, shelter from the elements, warmth in extreme temperatures and first aid in the event of injuries.
Regardless of whether you have all the long-term supplies you'd like to have in the event of a disaster, you should make sure that you have a basic survival kit in a backpack for the short term if nothing else.
Also, keep in mind that the contents of the survival kit might vary slightly depending on whether you were on land or water.
We also recommend reading about bestselling survival knives to have on-hand in case you need to defend yourself in an emergency situation.

* These deals and reviews were last updated on 2019-02-18 at 23:13.