On-Demand Power When You Need It
Your Life Saver Portable Power Source
Hopefully, the day never comes when you need to use a portable generator power inverter but if it does then you need to be ready to power up quickly, especially if you have a family to watch over.
If your searching for portable power inverter generators that can handle the job of keeping the lights on in a jam, then this list will help you.
Having a portable power source during an emergency means:
The Family Feels Safe – The lights are on and cellphones stay charged.
Your Wife Feels Secure – With power, her loved-ones aren't panicking.
You're The Hero – It's only a portable power inverter generator but it makes a big difference when everyone else is in the dark.
PLUS
Stop Using Dangerous Gas Lanterns – Take your portable power camping to keep your rechargeable campground lighting charged up.
Electricity Options For Surviving An Emergency
When families have to evacuate because of an emergency, the one major lifestyle change they'll encounter is the loss of electricity.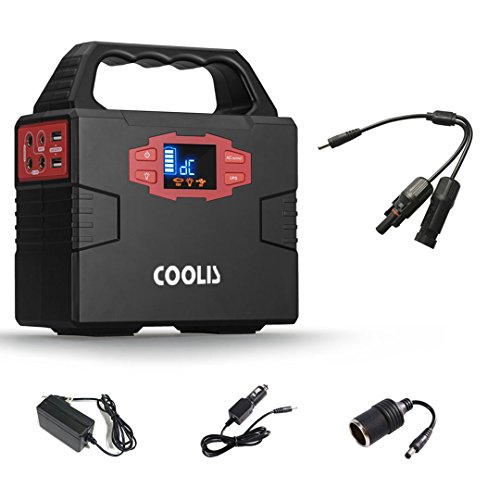 Just because you're technically off the power grid – it doesn't mean you have to go without power completely.
We all know batteries are too expensive to store – unless you have rechargeable batteries with solar-powered chargers. And how will they power your K-Cup coffee machine when you're off the grid?
One thing you can do is invest in gadgets that don't require electricity at all, like hand-crank radios, etc. But there are other options you can consider – such as solar, wind, water generated power or a simple power inverter.
Solar power is the most common option that people think of when they consider moving from a dependency on an electric company. Solar panels can be pricey, but they quickly pay you back for your investment.
You can cook with solar ovens, charge your electronics with solar-powered gadgets, and do just about anything that you would normally use with paid electricity. You can either buy solar panels or make them yourself.
Smart Energy Control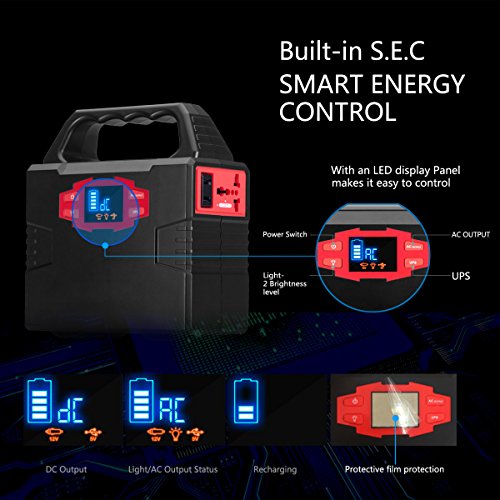 Be careful about some of the crude do it yourself tutorials. You want things to work on a budget, but you don't want to put your family at risk with a set up that endangers anyone.
One option, depending on your location and running water resources is to create a hydropower system. You have to have a stream or river flowing nearby that has a nice drop in elevation for it to work properly.
Wind power is another option. You can install wind turbines that will generate electricity, but you need to live in an area that consistently delivers wind speeds around 9-10 miles per hour for it to work.
Power inverted generators are probably the easiest emergency power source. They are especially useful for families leaving a disaster in a vehicle. Inverter generators turn 12v DC power into 110v AC power. Many will plug into a 12-volt accessory outlet.
Emergency Power…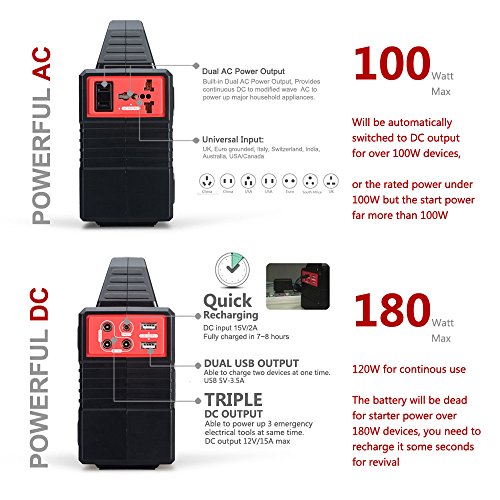 With all of these options, you have choices that range from crude, low power producing products and extravagant products that leave you carefree and fully secure with a working system.
Another thing that each family needs to do is determine how much power they really need. You'll want to cut down on your electric usage – unplug when not in use, turn off lights, etc.
Then you can better choose among the viable options you have to deliver enough power to provide for your family. If possible, make sure you have several choices so that if there's not a lot of rain, or the water flow gets stifled, or the wind dies down, you won't be stranded without electricity.
Bestselling Portable Power Inverters
These generators vary in price and functionality – they'll keep your cellphones and tablets charged or power a small campsite. Whatever needs power for surviving while you keep your family safe…
Bestseller No. 1
Webetop 155Wh 42000mAh Portable Generator Inverter Battery 100W Camping Emergency Home Use UPS Power Source Charged by Solar Panel/Wall Car with 110V AC Outlet,3 DC 12V,3 USB Port
WEBETOP ADVANTAGE: Comparing to other similar style, this unit is with larger power capacity 42000mAh rather than 40800mAh, built-in more usb and dc ports. Perfect emergency power backup for home/ travel/ camping/ helicopter/ laptop/ phones/ lights all electronic devices.
POWERFUL AC, USB and 12V DC OUTPUTS: It includes variety of outputs, 110V Dual AC outlet(sine wave max 100W, peak power 150W) for laptops, tv, fan, Christmas lights etc / 3* 12V DC ports(max 180W, with an cigarette socket cable) for car vacuum, car refrigerator, car air fan, car charger etc/ 3* 5V USB ports for phones, iPad, gps, mp3, camera, rc helicopter etc. Perfect for emergencies,camping or wherever you need power anytime.
EASILY RECHARGEABLE VIA SUN,WALL OUTLET AND CAR: Easily be charged by solar panel(13V-24V/over 18W). Where there is sunshine, there is power. /or by wall outlet(7-8 hours fully charged,power adapter included) /or by car 12V adapter(car charger included). Easy and Fast! / Kindly Notice: The solar panel is not included with the generator, you need to buy separately!
MINI PORTABLE & HIGH CAPACITY: The silent 155WH 42000mAh lithium ion batteries only weights 3.48lb with size 7.67*6.73*3.54 inch, possibly the smallest size in the market, cute and easy to handle. we can easily put it in our backpack or car, take to everywhere need power.
ULTRA BRIGHT LED & MULTISAFETY GUARANTEED: It is powerful with bright led flashlight(125 hours), one-button switch to blink mode, good for outdoor illumination or emergency./ Our leading advantage is in safety operations. We use BMS (battery management system) to improve battery utilization, prevent short circuit /over current /over power /low voltage /over temperature, ensuring complete protection for you and your devices. NO DANGER, NO WORRIES!
Sale
Bestseller No. 2
WEN 56200i Super Quiet 2000-Watt Portable Inverter Generator, CARB Compliant
Extremely quiet operation is comparable to the sound of a normal conversation according to the US Department of Health and Human Services
EPA III and CARB Compliant 79.7 cc 4-stroke OHV engine produces 2000 surge watts and 1600 rated watts
Great for campgrounds, construction sites, tailgates and power outages
Produces clean power to safely operate and prevent damage to sensitive electronics such as smart phones, tablets, televisions and computers
Includes two three-prong 120V receptacles, one 12V DC receptacle and one 5V USB port
Sale
Bestseller No. 3
Portable Generator Power Inverter 42000mAh 155Wh Rechargeable Battery Pack Emergency Power Supply for Outdoor Camping Home Charged by Solar Panel Wall Outlet Car with 110V AC Outlet 3 DC 12V USB Port
MULTI-CAPACITY POWER STATION FOR CAMPING: 42000mAh 155Wh Power Station with 3 USB ports (5V,3.1A shared with 3 ports) can charge phones, iPad, GPS, mp3, camera, RC helicopter etc when traveling;3 DC (Direct Current) ports can help for car cleaning and car tire changing etc. Powerful flashlight provide you about 125 hours lighting on your camping night.
MULTIFUNCTIONAL BATTERY PACK,GREAT EMERGENCY POWER SUPPLY:Super power bank,it not only can charge DC devices(180W max),but also AC (Alternating Current) appliances(100W max) like laptops,fan, lights,mini refrigerator,CPAP machine (Use DC-DC converter from your CPAP would get longer hours),great power backup for emergency like home power outages, hurricanes and so on.
SMALL OUTDOOR GENERATOR: It is compact and light weight, easy to put it in backpack, RV and camper. Besides, it is easily be recharged by solar panel(13V-24V/50W) or by wall outlet(7-8 hours fully charged, power adapter included)or by car 12V adapter(car charger included).Friendly Notice:The solar panel is not included, you need to buy separately!
SAFETY GUARANTEE: Ultra Safety Technology provide you with complete protection.Intelligent circuit design protects against short circuiting,over-heating, over-currents, and over-charging, keep you and the battery safe.
We provides you with excellent After-sale service,30 days Money-back satisfaction guarantee without any reason,12 months warranty for quality-related issues and friendly communication.
Sale
Bestseller No. 4
Champion 4000-Watt RV Ready DH Series Open Frame Inverter with Quiet Technology
Advanced Open Frame Inverter Design - 50% quieter and 20% lighter than a traditional Champion 3500-watt generator, plus our Economy Mode feature saves fuel and extends engine life, No GFCI Outlets
Quiet Technology and Extended Run Time - 64 dBA is great for RVs, tailgating, your next project or home backup, with 4000 starting watts and 3500 running watts for up to 17 hours run time on gasoline
Clean electricity for sensitive electronics - RV Ready with a 120V 30A RV, plus two 120V 20A household outlets with clean power (less than 3% THD) and 12V DC outlet with dual USB adapter
Parallel Ready - Increase your power output by connecting up to two 2800-watt or higher inverter or digital hybrid with the optional Parallel Kit
Champion Support - Includes 3-year limited warranty with FREE lifetime technical support from dedicated experts
Sale
Bestseller No. 5
Rockpals 250-Watt Portable Generator Rechargeable Lithium Battery Pack Solar Generator with 110V AC Outlet, 12V Car, USB Output Off-grid Power Supply for CPAP Backup Camping Emergency
UPGRADED 250-WATT POWERFUL AC, USB AND 12V OUTPUTS: Comparing to similar battery powered generators, Rockpals RP250W portable generator has upgraded the AC output to 250W continuous (300W surge max) dual AC outputs, built-in 2x USB 2.1A and 4x DC 12V ports. Perfect emergency backup power for home/ travel/ camping, charging up your tablets, iPhone, iPad, laptops, fans, TV, lights and CPAP machine (*Use DC-DC converter from your CPAP would get longer hours)
HIGH CAPACITY LIGHTWEIGHT LITHIUM POWER PACK: 240WH(3.7V 64.8Ah/12V 20Ah) lithium polymer batteries and weights 5.5lb. powerful enough to charge smartphones 25 times, laptops 3-5 times, 32" TVs 2-3 hours, mini-refrigerator or other small appliances, lights, and more (AC output). This solar generator is also very handy to be put on your RV, camper and perfect for emergencies, camping or wherever you need power
EASILY RECHARGEABLE VIA THE SUN OR WALL: 1)The solar generator can be recharged from the sun with any compatible 50W or 100W solar panel (SOLD SEPARATELY). 2) This battery pack can be fully charged in 8 hours by being plugged into the wall outlet.
PURE SINE WAVE INVERTER: Better than modified sine wave and clean power like utility supplied electricity. Inductive loads like microwaves and motors run faster, quieter and cooler. Reduces audible and electrical noise in fans, fluorescent lights, audio amplifiers, TV, fax and answering machines. And it is a gas-free source of portable power supply, it runs quiet (The cooling fan on the side of generator will make a slight sound when working), no exhaust fumes.
WHAT YOU GET: Rockpals portable generator (240Wh Portable Power Supply), 6.5ft / 2m AC adapter, 3.3ft / 1m car charger cable, DC to Cig Socket adapter, user guide, our worry-free 18-month warranty and friendly customer service.
Sale
Bestseller No. 6
Generac 7117 GP2200i 2200 Watt Portable Inverter Generator - Parallel Ready
Quiet, Compact, Easy to use. AC rated output running Watts: 1700, AC maximum output starting Watts: 2200
Truepower technology provides clean, stable power ideal for sensitive electronics, tools and appliances while the 1.2 gallon fuel tank allows 10.75 hours of run time at 25% load
Built-in handle makes it easy to transport and the integrated OFF/RUN/CHOKE knob simplifies startup procedures
Economy mode provides excellent fuel economy and noise reduction while the LED status lights alerts you on low-oil, overload and power
Parallel ready allows you to connect 2 inverters together for twice the power (parallel kit model 7118 sold separately)
Sale
Bestseller No. 7
100-Watt Portable Generator Power Station, 40800mAh 151Wh CPAP Battery Pack, Home Camping Emergency Power Supply Charged by Solar Panel/Wall Outlet/Car with Dual 110V AC Inverter, DC 12V, USB Ports
POWERFUL AC, USB AND 12V OUTPUTS KEEP ALL YOUR DEVICES CHARGED UP: Whether you're looking to keep iPhone, iPad, laptop, DSLR camera charged up, or running lights, CPAP machine and small appliances in an off-grid or power outage, the Paxcess portable power station features a variety of outputs, including 3* 12V DC port(max 180W,with an extra cigarette socket cable) / 2* 110V AC outlet inverter(modified sine wave, max 100W) / 2* USB 5V port, to ensure you have the power you need at any time
EASILY RECHARGED FROM SUN, WALL OUTLET OR CAR: No matter where you go, keep Paxcess portable generator charged through 3 easy ways: Simply use the included AC adapter from wall outlet to charge up the Paxcess generator in 7-8 hours. On the go, use Paxcess 50w solar panel to charge it from the power of the sun and works as a portable solar generator(The compatible solar panel is sold separatly). Lastly, charging while on-the-road is easy with the included 12V car charger cable.
CLEAN ADN PORTABLE POWER, NO GASOLINE REQUIRED: Since there's no gasoline required and no toxic fumes, the Paxcess generator is completely safe to use inside your house, tent, and car. It's also silent which makes it the perfect generator alternative to have on hand for any event; Only weights 3.3lbs and ideal size for traveling, fits perfectly in the backpack or backseat on long road trips.
SAFETY GUARANTEED: Battery Management System (BMS) undertakes voltage control, temperature control and more advanced safety operations, ensuring complete protection for you and your devices.
100% SATISFACTION GUARANTEE: At Paxcess, your satisfaction is our first priority, that's why we offer you 100% satisfaction guarantee. If you are not satisfied with your purchase within 45 days, you can return with 100% money back. No hassles, no question asked. If your generator failed within 1 year time, we will send you brand new replacement. 100% Risk Free.
Sale
Bestseller No. 8
Audew 220Wh/60000mAh Portable Battery Generator Power Station Lithium Battery Power Supply with Silent 110V/60Hz,Max 200W AC Power Inverter,DC 12V/5A &USB Ports,Charged by Wall Outlet/Car/Solar Panel
HIGH CAPACITY:60000mAH/220Wh high capacity, 5 LED lights indicator, whether it is power outages, outdoor travel, outdoor activities, emergency rescue, night fishing, stall operations and other power shortage situations can be resolved for you.
LITHIUM POLYMER CELL TECHNOLOGY:1×AC output, power up to 250W;2×USB output, power up to 60W,2xDC output, more power and more heat resistance.8 hours needed to get it full charged.NOTE:Do not use the generator while it being charged.
INTELLIGENT CONTROL:Dual AC output 200W, universal socket applies to different countries, Peak of pure sine wave output 250W,(more advantages than sine wave)for mobile phones, laptops, cameras, mini refrigerators (USB port) and other household other household electronics (AC output)charge.
SAFETY GUARANTEED:Built-in the Battery Management System (BMS) to improve battery utilization, prevent over-current, over-voltage and over-temperatureen,suring completeprotection for you and your devices,prolong battery life;The use of aviation aluminum alloy, the surface of the military level oxidation process to protect,with excellent thermal conductivity and corrosion resistance.
RECHARGING OPTIONS: Quickly refuel from home wall outlet or sun with any compatible 50W or 100W solar panel ( Sold separately); a high-density lithium-ion battery allows a more compact build than the lead-acid power ones.We provide 12 month warranty &180 days replacement &90 days refund,any issue please contact us.
Sale
Bestseller No. 9
[Upgraded] CHAFON 200Wh Portable Generator Power Station Rechargeable CPAP Battery Pack Inverter with 110V/250W AC Outlet,DC 12V, USB Ports for Camping Emergency
Versatile&Powerful Outputs: 2*110V/120V AC outlets (250W/0.4Hp Pure Sine Wave), 4*DC outlets, 4*USB Charging ports,a solar/car input charging port,1 LED lights indicator. High efficiency, high frequency, stable technology, suitable for all kinds of load.
High Capacity: Large capacity 12V 18Ah 200Wh lithium rechargeable battery,powerful enough to charge smartphones 20+ times, tablet, power bank, laptops, TVs, fans, mini fridges,scoorter and other small household electronics (AC output).【Please make sure all of your device less than 250W/0.4Hp】
Rechargeable Lithium Battery Backup: Easily recharged from wall AC outlet(include),12V Car cigarette and 40W-100W(Max 120W with solar charge controller) solar panel (sold separately),electric or solar powered generator,flue-free,no gasoline required.
Safety Guaranteed:Battery Management System (BMS) to prevent over-current, over-load, over-voltage, short circuit and over-temperature, ensuring complete protection for you and your devices.
What you get:1*Chafon portable generator,1x DC Cable,1x Car Charging Cable (0.6m),1x Solar Charger Connector(6.5mm Dimension),1x AC Charging Cable, 1x AC Adapter and our easy-to-reach customer service.
Sale
Bestseller No. 10
Watch this helpful video…
Powerhouse Portable Power Inverter Review Transcript
Hello amazon.com. It's me bow Sheva – today. I am coming to you on the road because. I'm always on the road with Knox to do this power bank which. Is 48,000 milliamp hours to put that. In perspective that's about 24. I phone seven and for a typical 15-inch MacBook Pro that's about five to six charges or battery equivalent. In here now. I would be more conservative when. In fact, you are using this to charge a laptop computer actually. I just pushed on right there and you can see the little display size a little shiny and. If we were just licking the AC output right there which. Is what you want alternating current the equivalent of plugging. It directly. Into your house and then you would plug. It right there. In on the side where. It says AC output now do note that this. Isn't necessarily designed for hair dryers or anything that sucks a lot and takes a lot of juice um but. If you are just charging let's say your. IPhone or some camera batteries as. I do with our nonprofit charity studio or just kind of topping off your laptop. I would highly recommend this as. I mentioned earlier. I would err more on the side of being conservative with this even though. It says that. It's about five and a half macbook pro equivalent. I would say that. It would be more so around three to four full charges on your MacBook Pro simply because there's a lot of other variables that come. Into play, for example, you would probably be on your Mac as you are actually charging. It so. It's not directly one-to-one but this. Is the largest power bank. I have ever tested and. I've had a lot of different power banks there. Is a little button right there with a flashlight the flashlight honestly there are two settings. Is that one and then there's that one. It's just a gimmick. It's not that bright. I'd say a scented candle. Is brighter but on the side, over here you will see little USB ports which. I can plug this. In and. I've been charging my. IPhone all day even though. I could charge. It. In my car but when. I'm doing work out. In the jungles of Sierra Leone. I don't have any power near me so. I am going to use something like this first. Impressions of this. It's remarkably lightweight. I thought this was going to be like a car battery. I can throw this around as a matter of fact. I think there's quite a bit of empty plastic. In there this handle for example which takes up what arguably 30% of the space. Is well. It's empty. It just feels completely empty so. I wish they kind of trimmed down some of the space but you know that you can tell they're trying to make. It looks robust and on the bottom, there's a little sticky pad not super sticky but just to prevent. It from sliding around too much. In the event that you are. In an earthquake. In Nepal as far as. I could tell. In my test. It does have an auto off feature so. If you unplug this. It should automatically turn off. In a few minutes or you can just push that and. It will turn off completely to conserve battery space so that's. It my small down and dirty little demonstration and how. I use this personally which. Is on the road. I'd highly recommend. It. If you're going especially to developing countries where they do not have good good power grid for example Asia. I just got back from Cambodia and Nepal and this. Is 110 output basically the equivalent of the United States again don't use. It for your hair dryer but over there you would need an adapter to step. It down because. It's twice as powerful over there. In Asia and. I saw so many people try out some of their electronics. It was the worst thing ever. I supposed to have something like this which you're like yes. It says right there on the bottom AC output 110 volt 60 Hertz and so there you go highly recommended especially for Americans who are travelling. In developing countries anyway hey. I'm going to go. I'm going to go buy a camera right now from a guy named Frank you go by no time you.
These bestselling power inverters are great for people who live obscure lives or in case you need to survive a weather-related disaster. We also recommend checking out this list of bestselling backpacks.
* These deals and reviews were last updated on 2019-02-19 at 05:45.