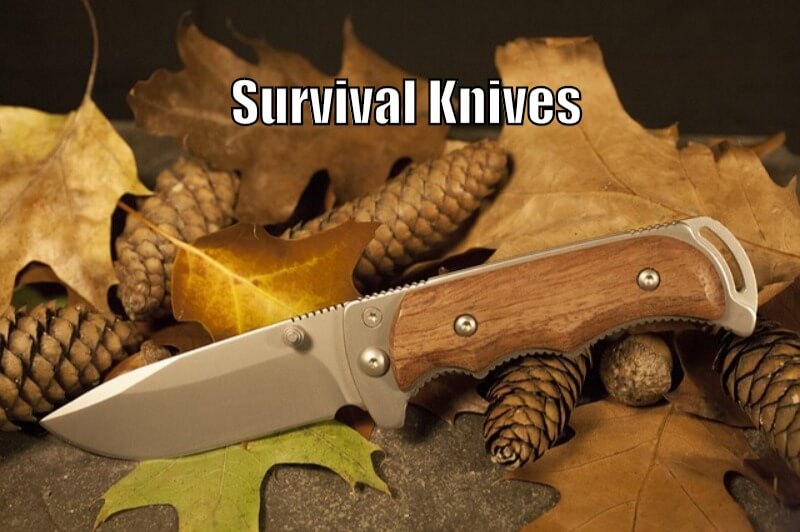 It's sad to say but with all the unpredictable events going on around us i.e. weather, shootings, riots, etc. having a bag and protection ready isn't such a bad idea.
A good survival knife on-hand or stored in your backpack may save your life in a crisis situation. And you don't have to spend $100s to get a high-quality blade.
Below you'll find a list of the top 10 best selling survival knives on Amazon and some of the bestsellers are under $20 and they're loaded with useful features. But before we dive into which blade is best for you to use let's go over the different types of knives and how they are used…
Comparing Survival Knives You Can Buy
There are a lot of different kinds of survival knives and the best way to select the right one for you will depend on the purpose you intend to use the knife for.
There are three main types of knives to consider for survival gear:
The fixed blade knife.
The folding blade knife (which is often referred to as a pocket knife).
The multi-tool survival knife.
Each knife has many benefits that make it a great knife to own
The fixed blade knife is usually sturdier than the folding blade or the multi-tool knife but may not be as easy to carry and conceal as the other types. Most survivalists who choose to buy a fixed blade knife also buy a sheath that attaches to a belt to make it easier to carry.
The folding blade knife is concealed within the handle. While it's easier to carry and conceal, it can't be used for the same purpose that a fixed blade knife can especially if you're looking for something for defense needs.
A folding knife has a shorter blade, which makes it less than ideal for defending yourself. It won't be as strong as a fixed blade knife in a fight and if the spring mechanism fails to open, you could end up defenseless.
The multi-tool survival knife is a favorite among survivalists. This knife features other attachments that make it easy to use in a variety of circumstances. Tools that you might find on this knife include scissors, pliers, a screwdriver, a bottle opener, a wire stripper, and a can opener.
Some companies manufacture multi-tool knives that are geared toward a specific activity like hunting or golfing. The blade of your knife can be made with a variety of materials including stainless steel, ceramic, and carbon steel. Each material has advantages and disadvantages.
Ceramic blades are tough, but also fragile. They make good knives for basic tasks like cleaning a fish but they will break easily if dropped against a rock or other hard surface. For this reason, it's suggested that you use your ceramic knife as a backup to a heavy-duty knife made of steel.
Look:
I know carrying a knife seems extreme but with all the unpredictable events going on having a good, sharp, knife may be the difference between life or death if you and your family have to bug out.
Best Selling Survival Knives To Stash In Your Bugout Bag
Sale
Bestseller No. 1
Bestseller No. 2
Sale
Bestseller No. 3
Bestseller No. 4
MOSSY OAK Survival Knife 10-inch Fixed Blade Hunting Bowie Knife with Sharpener and Fire Starter
KNIFE DIMENSIONS: Overall Length: 15 inch; Blade Length: 10 inch; Thickness: 3.5 mm
RAZOR SHARP CLIP POINT BLADE: Made of 440C stainless steel for excellent hardness, improved edge retention and rust resistance.Clip Point Blade features saw back, black anodize, ideal for camping expeditions or survival training
FULL-TANG RUBBER HANDLE: Classic designed handle with soft rubber, provides high friction and comfortable non-slip grip for use
NYLON SHEATH with SHARPENER & FIRE STARTER: Durable heavy duty nylon sheath for easy and safe carry, packaged with fire starter and sharpener
APPLICABLE OCCASIONS: As a perfect camping and hunting knife, it's suitable for hunter, camper, survivalist or outdoor sports enthusiast so that you can enjoy your adventure
Sale
Bestseller No. 5
Sale
Bestseller No. 6
Sale
Bestseller No. 7
Morakniv Bushcraft Carbon Steel Survival Knife with Fire Starter and Sheath, 4.3-Inch, Black
Fixed blade knife with 1/8-inch (3.2 mm) thick carbon steel blade with anti-corrosive black coating
Blade Thickness: 0.126" (3.2 mm), Blade Length: 4.3" (109 mm), Total Length: 9.1" (232mm), Net Weight: 5.4 oz. (154g)
Black plastic sheath with integrated diamond sharpener and Fire Starter; ergonomic handle with high-friction rubber grip
Morakniv Fire Starter yields 7,000 strikes and produces 3,000 Degree sparks; works when wet
Limited lifetime manufacturer's warranty.
Sale
Bestseller No. 8
HSYTEK Survival Gear Kit 11 in 1,Professional Outdoor Emergency Survival Kit with Tactical Pen|Bracelet|Temperature Compass|Fire Starter|Flashlight for Camping, Hiking,Travel or Adventures Necessary
Affordable - Upgrade 11 in 1 Survival Kit. Various Emergency Survival Gear, both are Multifunction. All tools can use Alone like folding Knife,tactical pen, Flashlight, Fire Starter, Survival Bracelet etc without bear extra fee,Emergency Survival Kit can suit all your first aid needs!
Upgrade Practical Combo - New Buckle Compass can measure temperature and easy hang. Upgrade Whistles can make a louder voice. New add Saber Card expanded emergency tactical survival kit function for adapt more situation.
High-Quality Cold Steel - Cold Steel Military Knife, black cold steel blade, and black aluminum handle. Anti-Rust, Durable. Coming with Waterproof Protective Case and A User Guide.
Multifunction and easy to carry-The entire box weighs only 0.86 pounds,This lightweight, compact, durable multi-purpose survival gear kit can be placed in a backpack, car, drawers, etc.Can be taken out at any time so that it can be used in times of need, especially in emergencies.
Perfect Gift - A Cool Gift to you brother or friends. And also can develop child's survive and handmade ability. It's necessary when camping, hiking, Climbing,adventures, it can help you make a life guard in extreme situations.
Bestseller No. 9
DAX Industries Fixed Blade Survival Knife With Magnesium Fire Starter and Whistle, 4 Inch Full Tang Blade, 420 Stainless Steel, 550 Paracord Handle, Whistle Built Into Fire Starter, Protective Sheath
SURVIVAL KNIFE - Magnesium- alloy fire starter (w/ lanyard) to start a fire effortlessly! Comes with emergency whistle built in. Perfect for camping, hiking or any general outdoor use.
FULL TANG BLADE - Very sharp knife, overall length: 8" black color, fits perfectly in your hand, with a comfortable grip.
QUALITY STEEL - 420 Stainless Steel, very low corrosion rate, sharpens very easily. Partially serrated spine for sawing through objects.
550 PARACORD - Used in survival situations, wrapped tightly around the knife handle, makes for the perfect survival kit.
HEAVY DUTY SHEATH - Hook & loop belt fastener and fitted pocket for fire starter. Click "ADD TO CART" to get yours now!
Sale
Bestseller No. 10
BlizeTec Survival Knife: Best 5-in-1 Tactical Pocket Folding Knife with LED Light, Seatbelt Cutter, Glass Breaker & Magnesium Fire Starter
BEST EMERGENCY TOOL: Premium 5-in-1 pocket-size stainless steel survival knife with nylon pouch. Functional components include: Drop-point blade with serrated saw, bright LED flashlight, magnesium alloy fire starter, blade lock, window breaker, seatbelt cutter and pocket clip.
ALWAYS BE READY: BlizeTec multi-purpose lock blade knife is perfect for all occasions; you can use it for camping, hiking, hunting and any outdoor activity. A MUST HAVE item for emergency preparedness; great gift for outdoor adventurers, military personnel, campers, hikers, hunters or even constant travelers.
POCKET SIZE & LIGHT WEIGHT: The knife is designed to fit perfectly into your palm. Weighs only 5.46oz, allowing you to avoid the hassle of carrying a big knife, while enjoying all the benefits of what a big knife can offer, and more. The knife can be carried with the belt clip or with the nylon pouch. This ultimate multi-emergency tool kit is produced with "ease of use" in mind.
EASY TO KEEP: BlizeTec emergency knife is easy to carry and easy to keep. The entire knife including handle is 8.5 inches long when open and it contains a mini LED light, seatbelt cutter, window breaker, magnesium fire starter and a pocket clip, Flexible carry options with the included nylon pouch, belt clip or just put it in your pocket. The blade is 3.5 inches long, and the whole unit is only 5 inches when closed.
QUALITY ASSURANCE: This sleek design survival knife is the BlizeTec limited edition series and backed by a lifetime warranty. (** NOTE** Beware of counterfeit **: BlizeTec is TRADEMARKED and the ORIGINAL CARRIER of the 5-in-1 silver limited edition survival knife. Always check sold by SELLER name under BlizeTec. So quality & warranty can be assured!)
Final Thought…
When it comes to survivalist gear, you don't want to forget to include a knife in your survival gear. A survival knife can serve many important purposes. First, it can be used to help defend yourself or your loved ones. But it can also be used to help hunt in the event you need to for your food supply.
A survival knife is a must-have for any survivalist because of all the jobs it can be used to do. Depending on the type of knife you get, you can use it to cut wood or slice through rope or even to clear brush out of your way.
We also recommend reading about the bestselling tactical backpacks you can use as a bug out bag for storing emergency supplies.

* These deals and reviews were last updated on 2019-02-18 at 23:13.